At Ohio LinuxFest, diversity and inclusion in open source is important to us. This year, our Chair of Diversity and Inclusion, Lauren Kinsey, has put together a special daylong workshop. The purpose of the workshop is to empower people from groups that are underrepresented in open source.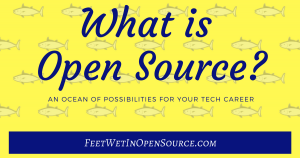 Getting involved in the world of Open Source can open career doors and completely change someone's life for the better. Help get that opportunity into the hands of someone who could benefit from it. Share this website with anyone you know who could use guidance on how to make their first contribution to open source: feetwetinopensource.com
This free workshop is intended to serve people of all ages and all backgrounds.
Workshop participants will spend Saturday, September 30th learning how to contribute to, or become more familiar with, the world of open source. They can pick the mentor and project that most appeals to them. Whether they know Ruby, Python, SQL, JavaScript, PHP, Java, HTML, CSS, or can't code at all, there will be a mentor and a project for them.
To learn more about each mentor and the languages and projects they'll be guiding the way on, visit our mentor page.
During the workshop, each mentor will sit at a table and the workshop participants who want to work with that mentor will join that table. The workshop mentors are themselves diverse and passionate about making open source a more inclusive space.
So that we know how many Ohio LinuxFest Attendees will be coming to the workshop, in addition to registering for OLF, please register for the workshop here.