Hotels
The Ohio LinuxFest is proud to announce that we will hold our 16th annual event at the Hyatt Regency Columbus on October 12 and 13, 2018. Ohio LinuxFest welcomes all Free and Open Source Software professionals, enthusiasts, and everyone interested in learning more about Free and Open Source Software.
Our preferred hotel this year is the Hyatt Regency. Having the conference and hotel in one place makes it extra convenient and accessible for families and those with physical challenges. More details will be added to this page as we arrange for room blocks.
Arena District Hyatt Regency Columbus
The Hyatt is unable to take online reservations for our group at this late date. To reserve your hotel room, you may call 1-888-421-1442 to make a reservation. Be sure to mention "Ohio LinuxFest" as the group to see if any discounts may still be available. The discounted rate starts at $152 a night but that might fluctuate at the event grows near. For those who booked under the Ohio LinuxFest group, self parking is available in the Chestnut garage (#7 below) at $14.40 per night.
Experience Columbus
Greater Columbus Convention & Visitors Bureau, otherwise known as experiencecolumbus.com has partnered with the Ohio LinuxFest to accommodate guests still in need of overnight accommodations. They keep track of inventory of all hotels, especially those connected and in vicinity to the Hyatt and the Greater Columbus Convention Center. The Ohio LinuxFest guests have reported excellent reviews from the Drury Convention Center Columbus, Crowne Plaza Hotel Columbus Downtown, Hilton Columbus Downtown, and the Hampton Inn and Suites.
You can book a discounted room using the Experience Columbus downtown search or reserve by phone at  (888) 795-4974.
Parking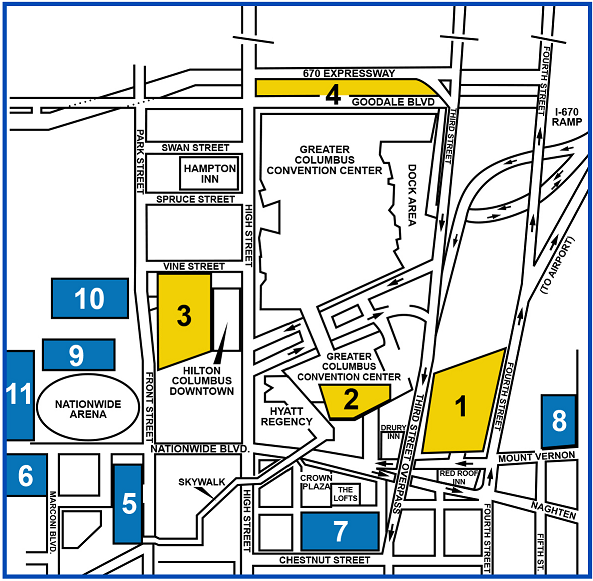 There are multiple paid parking lots and garages in the area of the convention center.
Convention Center East Surface Lot – 875 spaces – real time availability
Convention Center South Garage – 549 spaces – real time availability
Convention Center Vine Street Garage – 1778 spaces – real time availability
Convention Center Goodale Garage – 800 spaces – real time availability
Nationwide Parking Front Street Garage – 3050 spaces
Nationwide Parking Marconi/Cinema Garage – 1600 spaces
Nationwide Parking Chestnut Street Garage – 1650 spaces
Boggs Park and Ride Surface Lot – 350 spaces
Arena Parking Garage – 575 spaces
Nationwide Parking Surface Lot – 620 spaces
Nationwide Parking Surface Lot/Garage – 1500 spaces